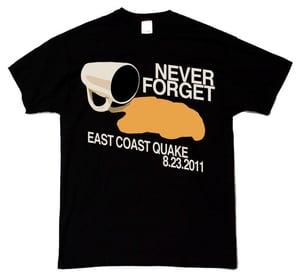 $

14.99 - On Sale
***** LIMITED PRINT ONLY, GET THEM WILE YOU CAN! *****
"DID YOU SEE THAT??? MY COFFEE JUST FELL OVER!!!"
Yes, we all were there that tragic afternoon. Many beverages were lost, spilled, or overly shaken, lawn chairs fell over, but one thing is for sure... THEY WILL NOT BE FORGOTTEN.
Show your true spirit and support for those lost beverages and easily tipped over items by purchasing this fine t-shirt.
If you don't buy this shirt: YOU CLEARLY SUPPORT EARTHQUAKE TERRORISM.